B.Sc. in Biotechnology - Where Curiosity Meets Discovery
Blog / November 15, 2023
BSc Biotechnology scope
Biotechnology courses after 12th
bsc in biotechnology
bsc biotechnology subjects
In the rapidly evolving landscape of Science, biotechnology stands tall as a balefire of advancement and innovation, opening limitless possibilities for a glittering future. This interdisciplinary field harnesses living organisms and their cellular and molecular processes to produce cutting-edge solutions.
From CRISPR-Cas9 technology and gene editing, promising to exterminate genetic diseases, to the development of biofuels and sustainable agriculture, biotechnology is the locomotion behind a host of life-altering advancements. When it comes to medicine, biotechnology is modernizing the way we diagnose and treat diseases, with customized medicine on the horizon. Moreover, it is making progress in environmental conservation via bioremediation and the creation of recyclable plastics.
Simply put, as Biotechnology continues to transcend boundaries and mold our world, the possibilities are encouraging and endless. No denying; in the era of quickly evolving scientific progress, we only have the option to anticipate more awe-striking discoveries as well as innovations from the sphere of biotechnology. If you have an immense passion for delving into biological systems, organisms, etc., pursuing a B.Sc. in Biotechnology is the best option.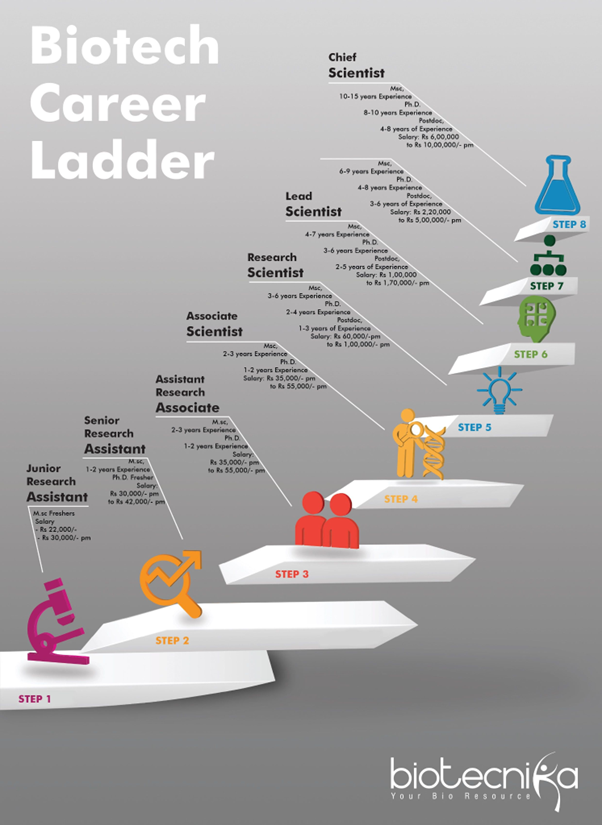 Image source: https://www.biotecnika.org/
Is it worth enrolling for a B.Sc. (Research) in Biotechnology?
Indeed, it is!
As per various reports, the biotechnology sector presents significant opportunities. Projections indicate that the global biotechnology market value is poised to reach $950 billion by 2027.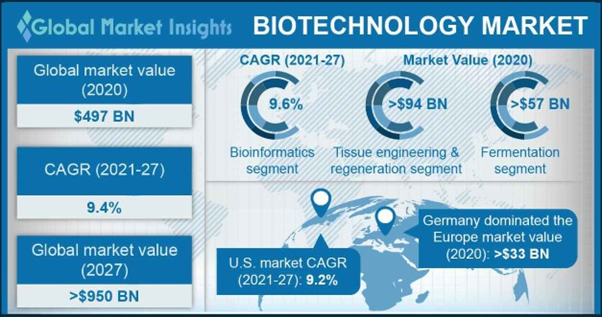 Image source: https://www.gminsights.com/
Furthermore, according to the BLS, the employment rate for biomedical engineers is anticipated to experience a 5% growth by 2029. Hence, through a blend of theoretical understanding and hands-on experience, students pursuing a B.Sc. Biotechnology can venture into uncharted territories, delving into fields like genomics, proteomics, and nanotechnology.
B.Sc. Biotechnology Scope
A B.Sc. in Biotechnology offers diverse and dynamic career opportunities with a broader range of opportunities. Below is an overview of scopes for graduates pursuing a Bachelor of Science in Biotechnology:
Research and Development (R&D)

Graduates have the opportunity to secure employment within research laboratories as well as biotechnology firms, where they can actively contribute to the innovation of novel pharmaceuticals, treatments, and biotechnological advancement.
Pharmaceutical & Biopharmaceutical Industry

Within pharmaceutical organizations, biotechnologists have ample options to join multitudes of positions regarding drug discovery, manufacturing, quality assurance, and regulatory compliance.
Agricultural Biotechnology

Numerous prospects exist in the fields of crop enhancement, plant biotechnology, and agricultural investigation, all aimed at the creation of genetically altered crops and the promotion of sustainable farming methods.
Environmental Biotechnology

In emphasizing pollution control challenges, biotechnologists can contribute to environmental preservation via their involvement in bioremediation initiatives.
Healthcare and Diagnostics

Immense opportunities are available in clinical laboratories, diagnostics, and personalized medicine, where graduates can engage with cutting-edge technologies like genomics and proteomics.
Continuing education, for example, enrolling for a master's or doctoral degree, can open up a wide range of opportunities for B.Sc Biotechnology graduates who are well-equipped to contribute to advancements in agriculture, healthcare, and environmental sustainability.
B.Sc. in Biotechnology Eligibility
Eligibility for a Bachelor of Science (B.Sc.) degree in Biotechnology typically includes the following criteria:
Educational Qualification

Applicants must have completed his/her senior secondary examination or its equivalent from a recognized educational board. He/she must acquire a minimum percentage of marks, which usually ranges between 50% to 60%, particularly in subjects like Physics, Chemistry, Biology, and/or Mathematics.
Age Limit

Radically, there is no age restriction when it comes to pursuing a B.Sc. Biotechnology. However, it is worth remembering that some colleges/universities may have age-limited criteria.
Entrance Exam

Some institutions/universities may conduct their own entrance examinations, while others may accept scores from national-level and state-level entrance exams, for example, JEE, NEET, etc.
B.Sc. Biotechnology Subjects
The specific subjects and curriculum for B.Sc. Biotechnology may vary depending upon one institution to another. However, below is the following outline of the subjects that are usually covered in biotechnology courses after the 12th:

Animal Sciences
Plant Sciences
Fundamentals of Computers
Chemical Principles
Basic Calculus
Ecology and Environmental Sciences
Basic Probability and Statistics
The subjects and the order in which they are taught can vary. Hence, it is essential to go through the curriculum of the specific institution/university where you plan to pursue your B.Sc. in Biotechnology to understand the subjects and coursework you will come across during the course.
Unlock the Mysteries of Life with a B.Sc. (Research) in Biotechnology at Shiv Nadar University (Institution of Eminence)
One of the pioneers, Shiv Nadar University, is a research-centric university in Greater Noida, Uttar Pradesh, India. Established in 2011, it is named after Shiv Nadar, the visionary founder of HCL Technologies - a multi-billion-dollar global IT company.
The institution is known for its commitment to providing an elite education and promoting innovation and research. It offers a world-class B.Sc. (Research) in Biotechnology, a holistic and innovative course curated to prepare aspirants for a blossoming career in the ever-evolving domain of Biotechnology.
The course is characterized by its multidisciplinary approach, mixing principles of biology, chemistry, genetics, and engineering to give students solid bedrock in biotechnology. Some key highlights of the B.Sc. (Research) in Biotechnology course at Shiv Nadar University include:
Interdisciplinary Curriculum
Research Opportunities
Well-versed and Experienced Faculty
Industry Connections
Campus and Infrastructure
B.Sc. (Research) in Biotechnology course graduates at Shiv Nadar University are well-prepared to commence gratifying careers in research, pharmaceuticals, healthcare, and many other biotechnology sectors. The university's commitment to academic excellence, research, and innovation has established it as a prominent institution, especially for those seeking a quality education in biotechnology. Also, the B.Sc. (Research) in Biotechnology course under the umbrella of the School of Natural Sciences is precisely divided into major and minor courses.
Under majors, students are readied to meet the challenges of biotechnology. They are trained in interdisciplinary areas, for example, Cancer Biology, Bioinformatics, Industrial Biotechnology, Medical Biotechnology, Malaria, Vascular Biology, Drug Development and Drug Design. Whereas in minors, having at least 21 credits is mandatory, of which 12 must come from four required courses.
Shape Tomorrow's World with a B.Sc. (Research) in Biotechnology
At the intersection of chemistry, biology, physics, genetics, and engineering, a B.Sc. in Biotechnology is an entranceway to a pool of opportunities. This tremendous course imparts students with in-depth knowledge and skill sets to get breakthroughs in agriculture, healthcare, and environmental sustainability.
Not to mention, biotechnology continues to shape our future; B.Sc. graduates are well-versed in contributing to advanced research, drug development, and the advancement of sustainable practices. If you are all set to bring revolutionary changes globally via life sciences, join B.Sc. (Research) in Biotechnology at Shiv Nadar University.