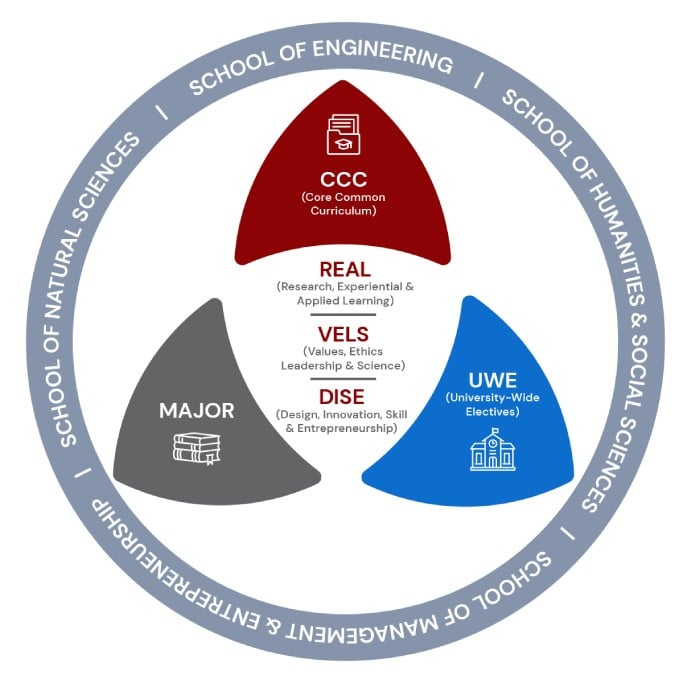 Multidisciplinary Curriculum
The multidisciplinary curriculum is one central pillar of the education we offer. Students acquire expertise in a domain (their Major), but at the same time are required to take a wide range of courses outside their Major. The University's undergraduate program provides students with the flexibility to pursue Major-Minor combinations as well. For example, Shrey Jain, recognized as a '30 under 30' by Forbes Asia, combined his Major in Electrical and Communication Engineering with a Minor in History.
Common Core Curriculum (CCC)
At least 18 credits.
The CCC is designed to provide students an understanding of the forces that are driving local, national, and global changes and to give them an awareness of the problems facing an increasingly integrated world.
Major
At least 108 credits.
All undergraduate students must specialize in a Major, ensuring that upon the completion of their degree they will be prepared to step into the working world or continue on to postgraduate studies with a high level of expertise in their subject, and with the competence to meet the highest standards of employers or postgraduate faculties.
University-Wide Electives
At least 18 credits.
The students have the flexibility to choose multiple university-wide electives, which provide them the opportunity to discover their academic passion and enhance their engagement in the learning process through the individualization of their programs of study.
Focus on Research and Innovation
At Shiv Nadar, our mission is to foster a love for research right from the undergraduate level. The Opportunities for Undergraduate Research (OUR) program enables undergraduate students to undertake research projects with faculty members in any discipline. Many undergraduate students have published their research work through this initiative.
Innovation and entrepreneurship are key pillars of the Shiv Nadar ecosystem. The Atal Incubation Center (AIC) was established in 2017 in our campus with the support of the Atal Incubation Mission of Niti Aayog. The objective of this mission was to foster the culture of innovation and entrepreneurship nationwide. The AIC is equipped with world-class facilities and state-of-the-art infrastructure spread over 10,000 sq. ft.
The Bachelor of Management Studies (BMS) program has entrepreneurial education built into their core curriculum. The Business Practicum and the Venture Challenge offer students unique opportunities for launching their own ventures while studying.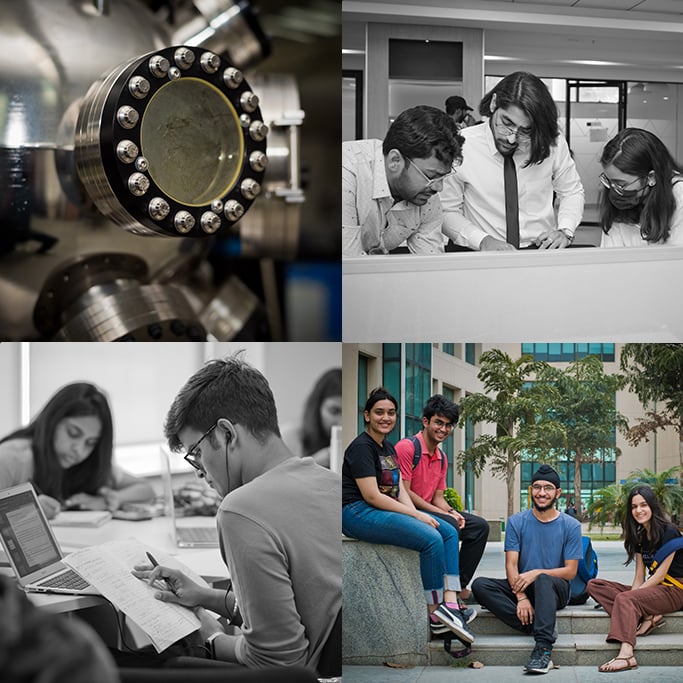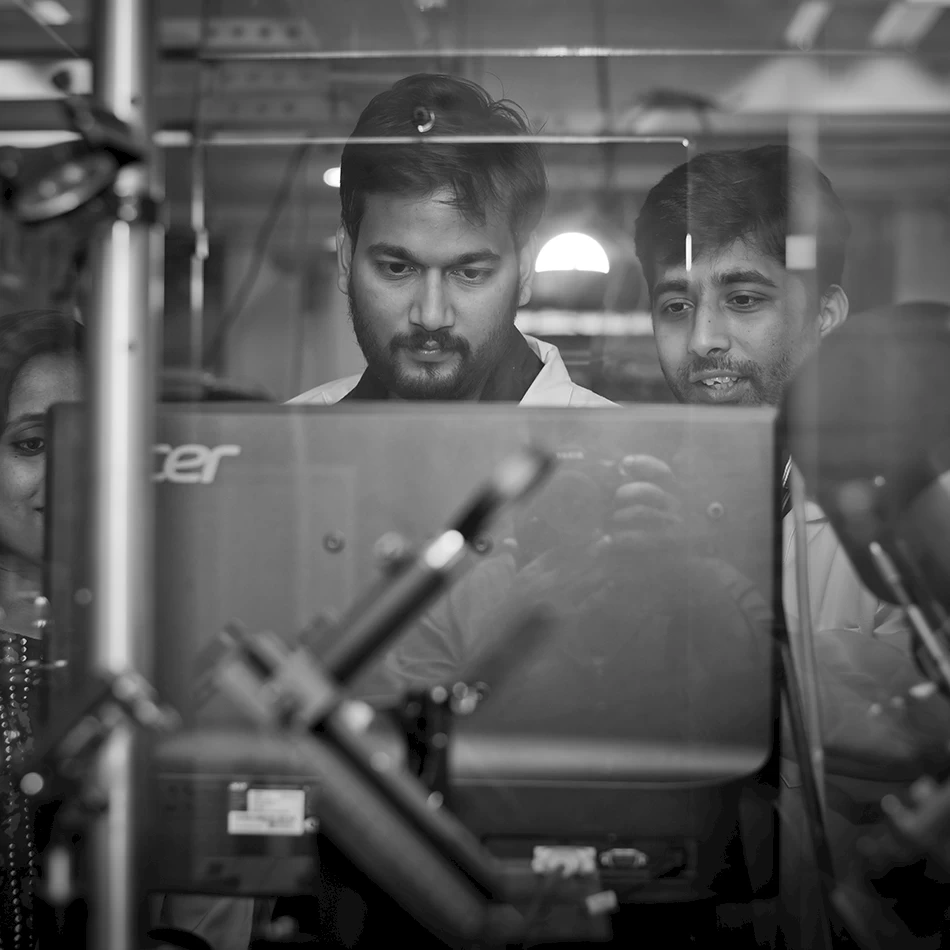 Research at Shiv Nadar
The university promotes four priority research areas: Environment, Energy, Cognition and behavior, Data and computation. The university also provides startup grants, core research grants, and fellowships across disciplines.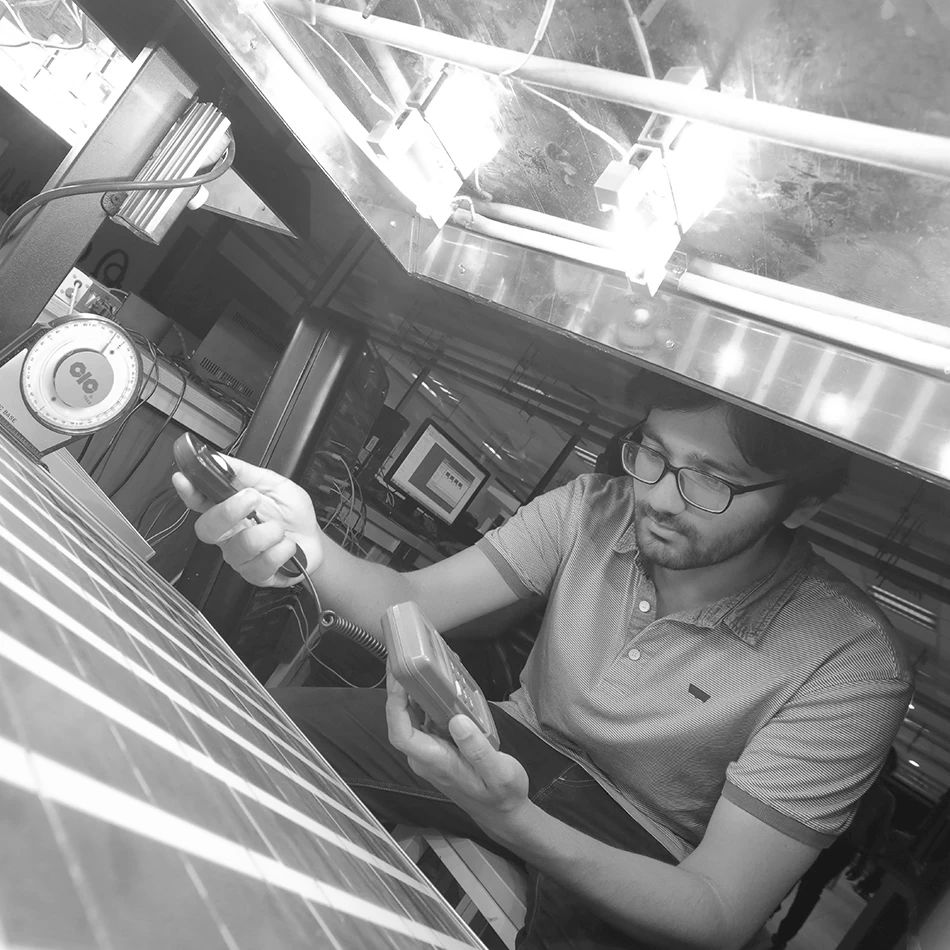 Research Facilities
At Shiv Nadar University, research excellence is cultivated through training, perseverance, and research. Pushing the boundaries of research, the university houses state-of-the-art research infrastructure and facilities.