B.Sc. in Economics - Navigate the Financial Frontiers
Blog / November 14, 2023
BSc in Economics
BSc in Economics in India
BSc in Economics subjects
Economics majors are highly sought after in the global job market due to their valuable insights into economic dynamics and human behavior, which are regarded as advantageous for any business. Their employability extends across various sectors, irrespective of the specific industry they choose to enter.
The demand for economists is expected to experience a 6% growth from 2021 to 2031, surpassing the average rate for all occupations. On average, about 1,400 openings for economists are projected each year over the decade. This surge is primarily fueled by the increasing demand for data analysis and economic expertise in a wide spectrum of industries and organizations.
A B.Sc. in Economics degree opens up a diverse array of career opportunities spanning nearly every industry, including local government, scientific fields, and finance. For instance, individuals with an associate's degree in economics can pursue roles such as bookkeepers, accounting clerks, and administrative assistants, while those with a bachelor's degree can embark on careers as entry-level economists, actuaries, accountants, and financial analysts.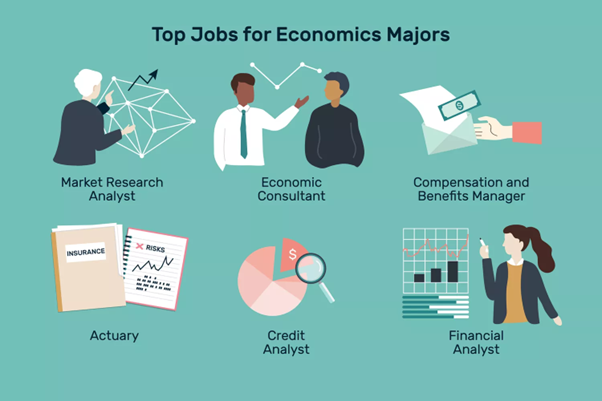 B.Sc. in Economics Subjects
A Bachelor of Science (B.Sc.) in Economics program typically includes a range of subjects that provide students with a comprehensive understanding of economics and related disciplines. While the exact course offerings may vary by institution, here are some common subjects you might encounter in a B.Sc. in Economics program:
Microeconomics
Macroeconomics
Econometrics
Mathematics for Economics
Statistics
International Economics
Labor Economics
Development Economics
Environmental Economics
Public Economics
Monetary Economics
Game Theory
History of Economic Thought
Business Economics
Economic Policy Analysis
Financial Economics
Behavioral Economics
Therefore, B.Sc. in Economics subjects offer a fascinating exploration into the world of markets, money, and decision-making. This interdisciplinary program combines elements of social sciences, mathematics, and statistics to provide students with a comprehensive understanding of economic theories and their practical applications. Whether deciphering market patterns or evaluating the impact of economic policies, the field of economics offers endless opportunities to unravel the mysteries behind the forces that shape our world.
Shiv Nadar University (Institution of Eminence) - Shaping Tomorrow's Economists
Situated in the vibrant city of Greater Noida, India, Shiv Nadar University serves as a shining example of innovation and academic excellence. Since its inception in 2011, the university has firmly established itself as a frontrunner in shaping the landscape of higher education.
Shiv Nadar University is a hub where learning knows no conventional limits. The institution champions a multidisciplinary educational ethos, empowering students to delve into a diverse range of subjects and cultivate holistic problem-solving abilities. This unique approach equips students to confidently tackle the diverse challenges of the modern world.
The School of Humanities and Social Sciences at Shiv Nadar University offers two undergraduate courses in Economics:
B.Sc. (Research) in Economics
The B.Sc. ( Research ) in Economics program aims to prepare students for various opportunities in the job market, whether they aspire to work in the corporate sector, public sector, non-governmental/social sector, or pursue advanced studies in economics or related fields. The program is comprehensive in nature, as demonstrated by its curriculum, which encompasses subjects such as academic writing, probability, and statistics. It is designed to furnish students with a solid foundation in fundamental economics principles and, in the later years, allows them to specialize in their chosen subfields.
B.Sc. (Research) in Economics and Finance (BSEF)
The B.Sc. (Research) in Economics and Finance program is a collaborative effort between the School of Management and Entrepreneurship (SME) and the School of Humanities and Social Sciences (SHSS). This program takes an interdisciplinary approach to harness the synergies between economic theory and the complexities of managing financial markets. By merging the expertise of the Finance, Accounting, and Control departments within SME with the Department of Economics in SHSS, this program is dedicated to preparing students for success in the ever-evolving and competitive domains of Currencies, Money, Risk, and Finance.
Master the Money Matters with B.Sc. in Economics Course at Shiv Nadar University
At Shiv Nadar University, from studying supply and demand dynamics to analyzing macroeconomic policies, students delve into the complexities of global economies and learn to make informed predictions about future trends. With the critical thinking and analytical skills developed through a B.Sc. ( Research ) in Economics and a B.Sc. (Research) in Economics and Finance programs, graduates are equipped to pursue diverse career paths, including finance, consulting, policy analysis, and research. So, join Shiv Nadar University and start your path to success in economics today.