MBA Analytics - Conquer the Data-driven Business World
Blog / November 13, 2023
mba analytics
mba analytics India
mba business analytics syllabus
what is mba analytics
Data has emerged as the lifeblood of success in the rapidly evolving landscape of contemporary business. Every interaction, click, and purchase leaves a digital trace, and every savvy firm is harnessing the power of business analytics to alter the data into actionable insights.
Envision this: A world where firms can predict customer preferences with eerie accuracy, optimize supply chains with pinpoint precision, and come up with decisions backed by data-driven certainty. Welcome to the Business Analytics age - a twirl that is revamping industries, propelling innovation, and redefining competition.
But the question is- "What exactly is business analytics, and why is it so imperative?" Well, Business Analytics is not just about data; it is about extracting the essence from that data. It is about transforming numbers into strategic advantages, gleaming insights driving the business forward, whether you are a multinational corporation or a tiny start-up. Pursuing an MBA in Business Analytics can be a game-changer if you have a knack for digging deep into data and extracting meanings.
In 2022, the worldwide data analytics market reached a valuation of USD 30 billion, which is anticipated to exceed approximately USD 393.35 billion by 2032. This growth is expected to be driven by a projected compound annual growth rate (CAGR) of 29.4% during the forecast period from 2023 to 2032.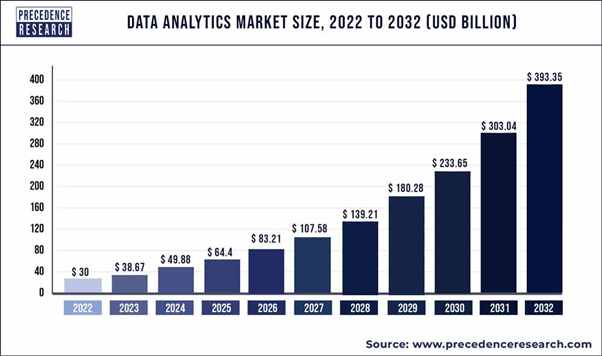 Let's quickly comprehend what MBA Analytics is all about.
What is MBA Analytics?
MBA Analytics, or Master of Business Administration in Analytics, is a specialized graduate-level course that mixes business management principles with highly advanced analytics and data science techniques. This idiosyncratic academic offering equips students with high-tech skill sets and in-depth knowledge required to leverage data efficaciously in decision-making processes within organizations.
Below is the breakdown of what an MBA in Analytics typically encompasses:
Business Foundations:

The course often commences with core business courses, wrapping subjects such as finance, marketing, operations, and strategy. This ensures students have a great understanding of business principles.
Data Analytics:

The heart of this course lies in its focus on data analytics. Aspirants learn to collect, clean, and analyze data utilizing multiple tools and techniques. This incorporates statistical analysis, data visualization, machine learning, and predictive modeling.
Decision-Making:

One of the critical aspects of MBA Analytics is teaching students how to come up with informed decisions depending on data insights. This includes understanding how analytics can be applied to solve real-world business problems and propel growth.
Big Data:

With the immense explosion of data in today's digital world, this course often dwells on big data technologies and practices. Aspiring candidates learn to tackle enormous datasets and extract valuable insights from them.
Industry Applications:

Many MBA Analytics courses offer specialized tracks or elective courses tailored to a specific set of industries, for example, healthcare, finance, marketing, or supply chain management. These courses support students in applying analytics to their respective chosen fields.
Soft Skills:

Impactful communication and teamwork are exponentially essential in interpreting analytical findings into actionable strategies. The course focuses on building these soft skills, allowing graduates to convey their insights persuasively.
Ethics and Privacy:

Contemplating the sensitivity of data, ethics, and privacy considerations are crucial. An MBA in Analytics typically wraps up the ethical utilization of data and the legal implications of data handling.
Whether you believe it or not, an MBA Analytics degree is highly valued in the present business world because almost more than 90% of organizations are relying on data-driven decision-making to gain a competitive edge. These days, graduates are well-prepared to work in roles like data analyst, business analyst, data scientist, or in leadership positions where they can drive data-driven strategies and innovations within their companies.
Hence, if you are planning to pursue an MBA in Analytics in India, be sure to choose a reliable and well-established university like Shiv Nadar University - A pioneer in producing industry-ready professionals.
Turn Yourself Into a Data-savvy Professional with the MBA (Analytics) Course at Shiv Nadar University (Institution of Eminence)
One of the prestigious institutions of higher education, Shiv Nadar University is located in Greater Noida, Uttar Pradesh, India. Founded in 2011, the University has gained immense recognition for its commitment to academic excellence, innovation, and research-oriented education.
The University is named after its founder, Shiv Nadar, an Indian billionaire industrialist and philanthropist. Not only this, he is also the founder of HCL Technologies - an Indian multinational IT services and consulting company. His sole vision for the University was to establish a world-class university that would ameliorate talent and promote innovation in many different fields.
The key highlight of Shiv Nadar University is that it offers a broader range of courses across all three levels, such as undergraduate, postgraduate, and doctorate, in numerous domains like engineering, natural sciences, humanities, social sciences, management, and more.
One of the distinctive features of Shiv Nadar University is its focus on research and innovation. The University has cutting-edge research facilities and motivates students and faculty to engage in innovative research projects.
More so, its MBA (Analytics) course offers a blend of the world of management and data science, imparting students with in-depth knowledge and skills required for succeeding in the contemporary landscape. The course is curated to address the increasing demand for experts who can harness the data power to propel informed decision-making and solve intricate business challenges.
MBA Business Analytics Syllabus
For its MBA (Analytics) course, the School of Management and Entrepreneurship at Shiv Nadar University follows an all-inclusive curriculum covering a broader range of subjects. Some of them are mentioned below:
Core Subjects
Storytellingwith Data
Introduction to Machine Learning
Cloud Computing
Social Media and Web Analytics
Artificial Intelligence
Electives
Risk Analytics
Healthcare Analytics
Robotics Process Automation
In the first year, you will build a foundation via courses covering- Introduction to Python, Structured Query Language, Data Visualization, Introductory Statistics, and Predictive Analytics.
In the second year, you will deepen your analytics expertise via courses on functional analytics and advanced analytics, culminating in a capstone project.
In crisper words, the MBA (Analytics) course at Shiv Nadar University is a forward-looking educational opportunity readying students to excel in the data-driven business world, proffering them a competitive edge in their careers.
Step Into a Data-driven Future with Shiv Nadar University
Pursuing an MBA in Analytics represents a strategic investment in one's career, resonating perfectly with the demands of the data-driven world. This specialized course equips individuals with an idiosyncratic blend of business acumen and data analysis skills, making them invaluable assets to organizations across industries. Keep in mind that an MBA in Analytics is not just a degree but a transformation the business needs. Enroll today at Shiv Nadar University.