MBA Admission - Embark on Your Journey to the Corporate World
Blog / November 09, 2023
mba admission
Eligibility for mba entrance exam
mba eligibility age limit
In this rapidly changing landscape of global business, a force is gradually but surely turning the world upside down, revamping industries, and challenging the status quo with each passing hour. It's not a cutting-edge invention or a revolutionary technology; rather, individuals armed with a vigorous weapon known as an MBA degree.
It is safe to say that MBA professionals are the strategists of success, the architects of change, and the catalysts of advancement who are transfiguring the framework of our interlinked world. Not to be forgotten, those who wield it are already remolding industries, disrupting conventional norms, and carving pathways for a better future that is nothing shorter than exceptional.
The MBA degree has emerged as a symbol of versatility, power, and influence in today's era. According to a report from Statista, in 2023, employability among Indian Masters of Business Administration graduates was about 60%, an increase from 47% in 2021.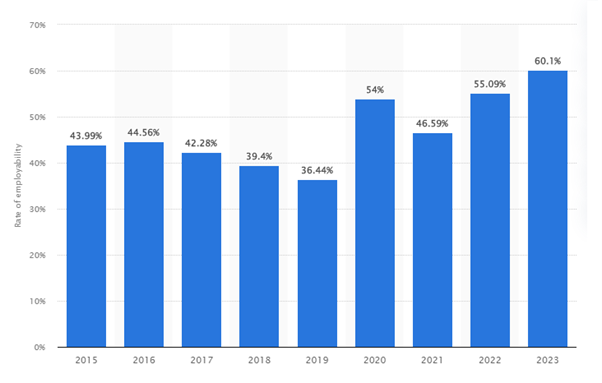 In this write-up, we will dig deep into how MBA graduates and professionals are turning the world upside down, leaving an indelible mark on business, leadership, and society, and why you should enroll for an MBA admission.
Top 5 Reasons to Take an MBA Admission
Entrepreneurship & Innovation:

MBA courses emphasize critical thinking, problem-solving, and innovation, which are crucial traits for entrepreneurs. In the current era, MBA graduates are increasingly kick-starting their startups and distorting well-established industries, showcasing their ability to innovate and create highly advanced solutions.
Ethical Leadership:

MBA programs usually include ethics and corporate social responsibility courses. As an outcome, MBA professionals are leading a shift towards more responsible and ethical business practices. They support sustainability, transparency, and accountability in business, emphasizing issues like- climate change, diversity and inclusion, and ethical supply chains.
Digital Transformation:

The digital age has given birth to rapid technological advancements, and MBA professionals are at the forefront of helping companies traverse this transformation. Their experience and expertise in data analytics, digital marketing, and technology strategy propel organizations to choose the latest technologies and adapt to changing consumer behaviors.
Flexibility and Adaptability:

One of the best traits of an MBA professional is adaptability. The professionals are precisely trained to thrive in diverse and unpredictable environments, making them well-rounded to lead organizations in a critical time like the deadly COVID-19. Their capability to pivot, make tough decisions, and chart new courses is invaluable.
Leadership & Management:

MBA programs give solid bedrock regarding management and leadership principles. MBAs are well-equipped to manage teams, projects, and leadership principles efficaciously. Their leadership quality is exceptional in shaping the culture and organization's direction.
These were a couple of factors via which MBA professionals lead the organizations from the front and why you shouldn't wait to enroll for MBA admission.
Career Options After an MBA Degree
The job market for MBA graduates in India has been steadily brimming in the course of a few years. According to a LinkedIn report, in 2020, despite the pandemic, the MBA students' placement rate was around 90% in some top business schools. Additionally, the median salary for MBA graduates in India is on the rise, with some business schools reporting average salaries of around Rs. 24 lakhs per annum. Some prominent career options after an MBA include:
Marketing Manager
Human Resources Manager
Risk and Insurance Manager
Financial Manager
Operational Decision Manager
Business Analytics Manager
And more!
These are just a few examples of job opportunities for an MBA graduate. Remember, the world is diverse and vast, and so is the scope, meaning in the coming future, there will be immense job openings for MBA professionals.
MBA Eligibility Criteria in India
In India, the eligibility prerequisites for MBA admission have been meticulously devised to ensure that prospective candidates have the essential attributes needed to thrive in the dynamic realm of business and management. As you contemplate embarking on this transformative journey, it is imperative to fulfill the following eligibility for the MBA entrance exam:
Candidates must have cleared a bachelor's degree or an equivalent qualification from a recognized university or institution. Importantly, this undergraduate degree can pertain to any academic discipline, underscoring the program's commitment to diversity and the cultivation of a multifaceted business perspective.
A minimum percentage of 55% or a CGPA is needed to showcase a robust academic foundation. It's important to understand that this criterion can vary depending on the prevailing standards of the MBA program.
Many institutions may need the submission of scores from MBA entrance examinations like the Common Admission Test (CAT), Graduate Management Admission Test (GMAT), or other examinations specified by the respective university.
For a few aspirants, a personal interview may be a part of their selection process. This interview serves as an opportunity for the admissions committee to evaluate your interpersonal skills, prowess, and overall compatibility with the chosen program.
Meeting these eligibility criteria not only opens the gateway to pursuing an MBA but also symbolizes your preparedness to engage in a metamorphic learning experience. As you commence on the MBA journey, it is imperative to comprehend that each criterion is meticulously curated to equip you with the tools, knowledge, and competencies required to thrive as a future leader in the realm of business and management.
Secure Your MBA Admission at Shiv Nadar University (Institution of Eminence)
The School of Management and Entrepreneurship at Shiv Nadar University proffers a wide array of MBA courses with the goal of ameliorating individuals developing into professionals known for their adaptability on a global scale, strong ethical values, and compassionate approach, ready to take on leadership roles in multitudes of organizations.
The educational curricula at Shiv Nadar University are mindfully curated to provide students with relevant knowledge, technological skills, core principles of leadership, and a professional demeanor fostering resilience in the face of volatile, uncertain, highly competitive, and intricate business environments.
The university offers the following MBA programs:
To be eligible to enroll in any of these programs, applicants must fulfill the following requirements:
Obtain a minimum aggregate score of 65% in Class X.
Attain a minimum of 75% in Class XII.
Secure a minimum score of 60% in their Bachelor's Degree or equivalent from an accredited university or institution.
Provide valid scores from one of the following entrance examinations conducted between January 2020 and January 2022: CAT, XAT, NMAT, GRE, or GMAT.
More so, for the MBA (Analytics) course, applicants with a GATE qualification can also apply, and preference will be given to those with backgrounds in Science, Technology, Engineering, and Mathematics (STEM) disciplines. These well-defined eligibility criteria, established by esteemed institutions like Shiv Nadar University, ensure that candidates have the aptitude, dedication, and readiness to excel in the rapidly altering landscape of modern business. Also, there is no age limit to take MBA admission.
Ignite Your MBA Journey at Shiv Nadar University
MBA professionals are indeed turning the world upside down, reshaping industries, and redefining business practices. They have the knowledge, skills, and mindset required to lead in an ever-changing global landscape. Whether through innovation, ethical leadership, digital transformation, or social impact, MBA graduates are propelling conducive change and leaving a massive impact on the world of business and beyond. As they continue to rise in influence, we can expect even greater transformations in the years to come. If you are looking to elevate your corporate career, enroll for MBA admission at Shiv Nadar University.