B.Tech Courses List: Top 6 In-Demand Courses for World's High-Paying Jobs
Blog / November 01, 2023
B.Tech Courses list
B.Tech mechanical engineering
B.Tech mechanical engineering eligibility
In the current era defined by technological advancement and expeditious global challenges, engineers have emerged as the frontiers of shaping the world. These obscured heroes of innovation are transforming dreams into reality, resolving intricate issues, and constructing a better world for all generations.
Whether you believe it or not, the world of engineering has always been a constant pursuit of the extraordinary; as we stand on the precipice of a new technological-driven era, the future of engineering appears more promising and awe-inspiring than ever before. From Al-generative smart cities to green energy solutions, the engineering world is abuzz with metamorphic developments.
As per the report of the BLS, engineering opportunities are expected to rise by 7% nationwide by the end of 2026. Let's take a glimpse into the unfolding saga of engineering's next chapter with the B.Tech courses list.
Top 6 In-Demand High Salary B.Tech Courses
When it comes to education and the tech industry, B.Tech courses remain a driving force. With adaptable specializations, industry and student-centric curriculum, and global exposure, these courses offer a great foundation for aspirants to commence flourishing careers, contribute to technological advancements, and shape the world in the best possible ways.
As the world continues to depend on technology, B.Tech courses are set to play an even more crucial role in the years to come. Below is the list of top 6 in-demand high-paying B.Tech courses:
B.Tech in Chemical Engineering
A B.Tech in Chemical Engineering is a meticulous undergraduate course that emphasizes the principles and applications of chemical processes, materials, and energy frameworks. Students gain immense expertise in designing, analyzing, and optimizing chemical processes and developing sustainable solutions for industries like pharmaceuticals, petrochemicals, and environmental protection.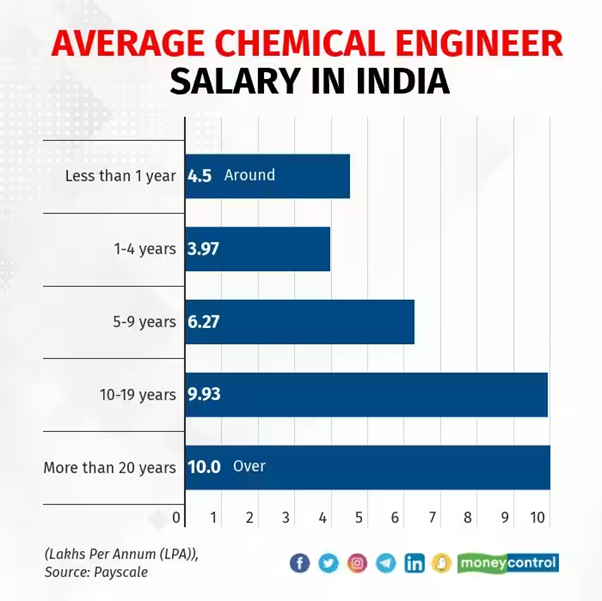 Image Source: https://www.moneycontrol.com/
B.Tech in Civil Engineering
A B.Tech in Civil Engineering is a four-year undergraduate program that prepares students to design, construct, and manage infrastructure projects. It encompasses areas such as structural engineering, transportation engineering, and environmental engineering. Graduates play a vital role in building and maintaining essential infrastructure like buildings, bridges, roads, and water supply systems, contributing to societal development and sustainability.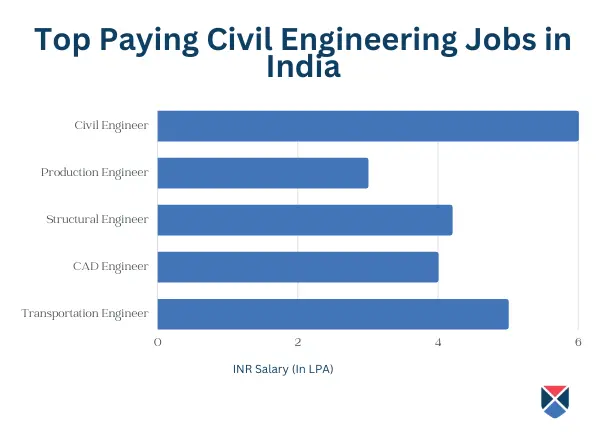 B.Tech in Computer Science and Engineering
A B.Tech in Computer Science and Engineering is a four-year undergraduate course focusing on computer hardware, software, and frameworks. During this tenure, students learn and master programming, algorithms, data structures, and network technologies. This course equips graduates with the knowledge and skills to innovate in the tech industry, developing software, designing systems, and working on advanced technologies, such as artificial intelligence and cybersecurity.

Image Source: https://www.payscale.com/
B.Tech in Electrical and Computer Engineering
A B.Tech in Electrical and Computer Engineering is a vigorous four-year undergraduate course blending electrical engineering with computer science. In this, students gain expertise in designing, developing, and managing electrical systems while delving into computer hardware and software. Graduates are equipped to work on multitudes of technologies, for example, power systems and electronics, embedded systems, computer networks, etc., enabling innovation in the tech-centric world.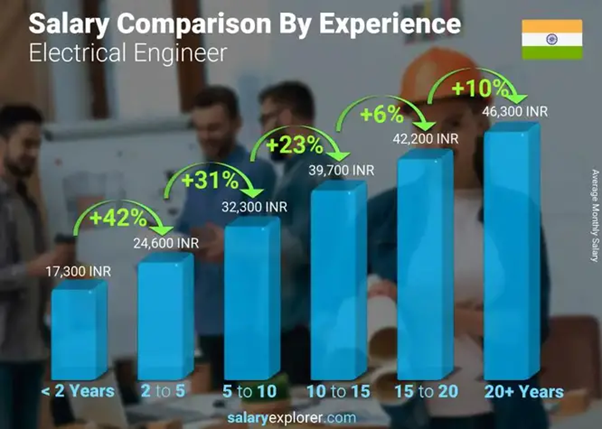 Image Source: https://www.salaryexplorer.com/
B.Tech in Electrical and Electronics Engineering
A B.Tech in Electrical and Electronics Engineering is a four-year degree course emphasizing electrical systems, electronics, and their integration. In the course of four years, students learn about electrical circuits, power generation, electronics design, and control systems. With these skills, they can try their hands in multitudes of industries, such as power generation, telecommunications, automation, and electronics manufacturing.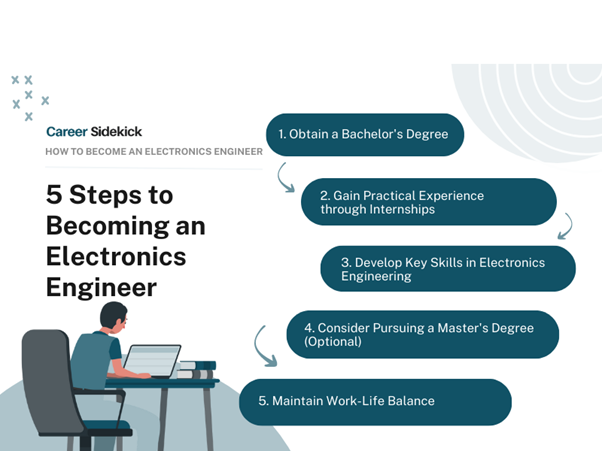 Image Source: https://careersidekick.com/
B.Tech in Mechanical Engineering
A B.Tech in Mechanical Engineering is an undergraduate course exploring mechanics, thermodynamics, and materials science principles. Students learn to design, analyze, and manufacture mechanical systems and machinery here. Also, they get equipped for diverse career paths in automotive, aerospace, energy, and manufacturing, contributing to innovation and technological advancement.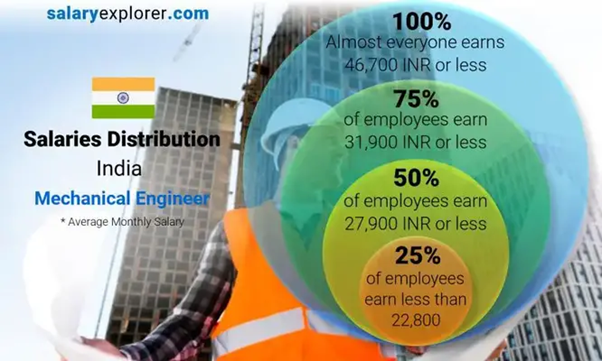 Image Source: https://www.salaryexplorer.com/
Discover Top-notch B.Tech Courses @ Shiv Nadar University (Institution of Eminence)
Nestled amidst the serene and sprawling campus of the School of Engineering at Shiv Nadar University lies a jewel of higher education, where advancement meets intellect and aspirations take flight - the world-class B.Tech courses.
Established with a vision to redefine the landscape of engineering education in India, this pioneering institution has emerged as the balefire of excellence, drawing brilliant students from all across the globe.
Shiv Nadar University is nothing less than an ecosystem of knowledge, a hub of creativity, and a hotbed of technological breakthroughs. The B.Tech courses at Shiv Nadar University embody the very essence of this ethos, promising a metamorphic journey, especially for those individuals who dare to dream and strive for engineering greatness.
One of the best things that set Shiv Nadar University apart is its unwavering commitment to nurturing the leaders and innovators of tomorrow. With elite faculties, state-of-the-art laboratories, and a student-centric curriculum typically curated to foster critical thinking and problem-solving skills, B.Tech courses here aren't just about attaining knowledge; rather, crafting a mindset thriving in the face of challenges.
However, it is essential to understand that university is not all about academics. It has a lively campus, a multicultural melting pot where ideas collide and collaborations flourish. At Shiv Nadar University, students are empowered and encouraged to explore their passions through advanced research, entrepreneurial endeavors, or artistic pursuits. The result? A well-rounded education that goes beyond textbooks and classrooms.
Further, the B.Tech courses at Shiv Nadar University don't just prepare students for jobs; it shapes them into pioneers who mold the future better. With a focus on multidisciplinary education, industry exposure, and a solid focus on ethical practices, graduates emerge as skilled engineers and responsible global citizens.
B.Tech Eligibility Criteria
The eligibility criteria for admission to a B.Tech at Shiv Nadar University are as follows:
Candidates should have completed their higher secondary education (10+2) or equivalent from a recognized board or institution. They must pursue Physics, Chemistry, and Mathematics as mandatory subjects during their 10+2 curriculum.
Minimum Marks Requirement
Most universities and colleges need applicants to meet a minimum percentage of marks in their 10+2 examinations. While the precise percentage may differ among institutions, it generally falls within 50% to 75% aggregate marks in science subjects.
Several universities or institutes administer entrance examinations for admission to their B.Tech courses. Examples include the Joint Entrance Examination (JEE) in India or the Scholastic Assessment Test (SAT) in the United States. Qualifying in these exams is a prerequisite for consideration for admission.
These eligibility criteria are the bedrock for aspiring B.Tech students to begin their educational journey. Nevertheless, it's crucial to remember that specific requirements may change in the future, so candidates are encouraged to verify the prerequisites prior to enrolling for admission.
Engineer Your Dream Career with B.Tech Courses at Shiv Nadar University
As we move ahead, it's clear that engineering will play a vital role in addressing global challenges and enhancing our quality of life. There is no denying that engineers are the architects of tomorrow, and their innovations will shape the world for generations to come. So, if you want to be known for shaping the better for the generation to come, enroll for a B.Tech and choose your specialization at Shiv Nadar University as per your career goals.