B.Tech Civil Engineering - Get Ready to Shape Tomorrow's Infrastructure
Blog / November 02, 2023
B Tech Civil Engineering
b tech civil engineering syllabus
b tech civil engineering syllabus 2nd year
In a world facing unprecedented urbanization and tons of environmental challenges, one branch that stands as a vanguard of sustainability and innovation is Civil Engineering. This potent field plays a major role in shaping cities, infrastructure, and how we live. As we progress towards the future, Civil Engineering assures us to leave an ineradicable mark on the planet, promoting a resilient and sustainable world.
Not to mention, the most pressing concern of the present time is Climate Change. This is where the Civil Engineers slip in! These professionals are the frontiers of designing environmental-friendly solutions, be it carbon-neutral infrastructures or buoyant structures that can withstand the augmented impacts of climate-related events. Advancements, such as green roofs, self-healing concrete, and viable urban planning, alter how we construct and inhabit the cities.
As we navigate the 21st century, Civil Engineering has the key to addressing global challenges, making the world more connected, strong, and unceasing. In crisp words, the future impact of Civil Engineering is not just about developing infrastructures but constructing a better planet for the coming generations.
If you feel a sense of excellence as well as brilliance when you come across skyscrapers, flyovers, and bridges, to name a few, then the B.Tech Civil Engineering course can be your gateway.
A thought might have hit the chords of your brain if a B.Tech in Civil Engineering is worth it. Right? Let's know!
Is B.Tech Civil Engineering Worth it?
Yes, absolutely!
As per the reports of Grand View Research, the global civil engineering market was approximated to be worth USD 8,652.3 billion in 2022, with a projected compound annual growth rate (CAGR) of 6.8% expected from 2023 to 2030. This growth can be attributed to the rising number of infrastructure and capital projects. Furthermore, the anticipated growth of the construction industry is driven by the increasing disposable income in emerging economies, particularly boosting the infrastructure segment during the forecast period.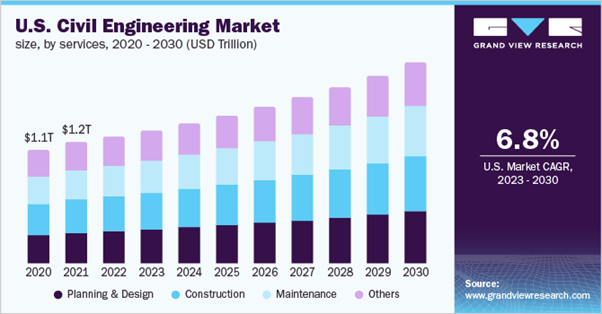 Career Options After B.Tech Civil Engineering
Civil engineering is amongst the versatile fields offering ample opportunities in multiple sectors. After completing your B.Tech in Civil Engineering, you have a broader range of career options to explore and excel in. Below are some career options you can contemplate:
Architectural Engineer
Structural Engineer
Geotechnical Engineer
Construction Engineer
Environmental Engineer
Water Resources Engineer
And many more!
Remember, your career choice depends on various factors, such as your interests, skills, and personal preferences. In addition, pursuing higher education and obtaining relevant certifications can amplify your career prospects in the field of civil engineering.
Also, to have a flourishing career in B.Tech Civil Engineering, it is crucial to choose the right university with a solid track record. In India, several renowned universities offer B.Tech in Civil Engineering, and one of them is Shiv Nadar University.
Construct Your Future with a B.Tech in Civil Engineering at Shiv Nadar University (Institution of Eminence)
Shiv Nadar University, founded by Shiv Nadar, a renowned Indian Entrepreneur and Philanthropist, is a highly prestigious higher education institution located in Greater Noida, India. Established in 2011, the university has gained recognition for its commitment to providing top-tier education and fostering innovation as well as research in multitudes of disciplines, incorporating engineering. Amongst many disciplines, its Bachelor of Technology in Civil Engineering course stands tall for numerous reasons. Some of them are mentioned below:
Comprehensive Curriculum
Interdisciplinary Approach
Research Opportunities
Industry Connections
Global Perspective
Holistic Development
Alumni Success
The B.Tech in Civil Engineering course offered by the School of Engineering at Shiv Nadar University is distinguished by its comprehensive curriculum, interdisciplinary approach, research opportunities, industry connections, global perspective, and commitment to holistic student development. It equips graduates with the knowledge, skills, and experiences necessary to excel in the dynamic field of civil engineering and make meaningful contributions to society.
To enrol in this dynamic program at Shiv Nadar University, you need to meet some specific requirements.
You must have cleared your 10+2 from a recognized board with flying colors (a minimum aggregate of 50% -60% marks).
You must have studied Physics, Mathematics and Chemistry in Senior Secondary Education.
You must have appeared for entrance examinations, such as JEE Main, SNUSAT, etc.
This was all related to the eligibility criteria for the B.Tech in Civil Engineering course at Shiv Nadar University.
B.Tech Civil Engineering Syllabus at Shiv Nadar University
Once admitted, you will learn and master various subjects in the course of 4 years. Some of these include:
Engineering Graphics
Building & Construction Materials
Mathematical Methods
Fluid Mechanics
Concrete Technology
Hydraulic Engineering
Transportation Engineering
Water Resource Engineering
Design of Steel Structures
Foundation Analysis and Design
Estimating, Costing, & Project Management
These are some of the subjects covered in B.Tech Civil Engineering syllabus in the 1st, 2nd, 3rd and 4th year. Also, Shiv Nadar University offer specializations in:
Sustainable Infrastructure Systems
Water, Environment and Climate
Urban Networks Systems
Build the World of Tomorrow with a B.Tech in Civil Engineering
Civil Engineering is not just about constructing physical structures but rather shaping the world we reside in. It all revolves around building bridges, skyscrapers, and eco-friendly infrastructure. It's about ensuring the safety and well-being of communities, innovation pushing the boundaries of what is possible, and, of course, leaving a lasting legacy for generations to come.
As you commence your B.Tech in Civil Engineering journey at Shiv Nadar University, remember that this field is not merely a career choice; it's a calling to create a never-ending impact on the world. Clinch the challenges, immerse yourself in learning, and stay connected to the roots of Civil Engineering. Your future as a well-versed and visionary civil engineer awaits, and with immense dedication and perseverance, you can help shape a brighter, more sustainable tomorrow for all.