Shiv Nadar IoE celebrates a night of glory and achievement

Blog / August 01, 2023
Shiv Nadar University
Shiv Nadar IoE
Convocation
graduation
career development
It was a day of smiles, cheers, hugs, celebration, parting, and stepping into the world braver and stronger. Over 2000 guests, students, faculty, and staff gathered at Shiv Nadar University's 120,000 sq. feet Indoor Sports Complex, celebrating the ninth convocation ceremony in style on July 29.
The joy and energy at the convocation ceremony was tangible. Clad in specially designed stoles and gowns, the university's community joined hands in applauding the achievements of the students and faculty with style and panache.
Emotions of achievement, pride, and recognition made the event like no other on campus.
"We are extremely proud that Shruti has topped the university and received the gold medal. The university has groomed her into a confident and self-reliant girl ready to take on the world's challenges. We are glad that Shruti chose Shiv Nadar IoE as her first choice to pursue her undergraduate studies," said her proud parents, Guruvayurappan T S and Nagalakshmi R. Shruti TG who received her B.Sc (Research) degree in Biotechnology accepted the gold medal from Shikhar Malhotra, Chancellor and Dr. Ananya Mukherjee, Vice-Chancellor of Shiv Nadar IoE.
Whether graduates are entering the workforce, moving their careers in a new direction, or moving on with further studies, the day was uplifting for one and all.
"We are proud of our daughter's achievements. It has been an excellent experience for our daughter and us as parents. Our daughter's four-year stint here with a researched-based university has given her a new direction," said Sudha Upadaya, Professor of Hindi at Delhi University, and Deeraj Sarthak, critically-acclaimed documentary filmmaker, parents of Snigdha Sarthak who graduated with a B.Sc Biotechnology (Research).
The event celebrated the achievements of 585 students who received their degrees.
During the event, Honorary Doctorate degrees were conferred to Padma Shri awardee and renowned physicist Professor Rohini Godbole and Padma Shri awardee Professor Ajay Kumar Sood, Principal Scientific Adviser to the Government of India.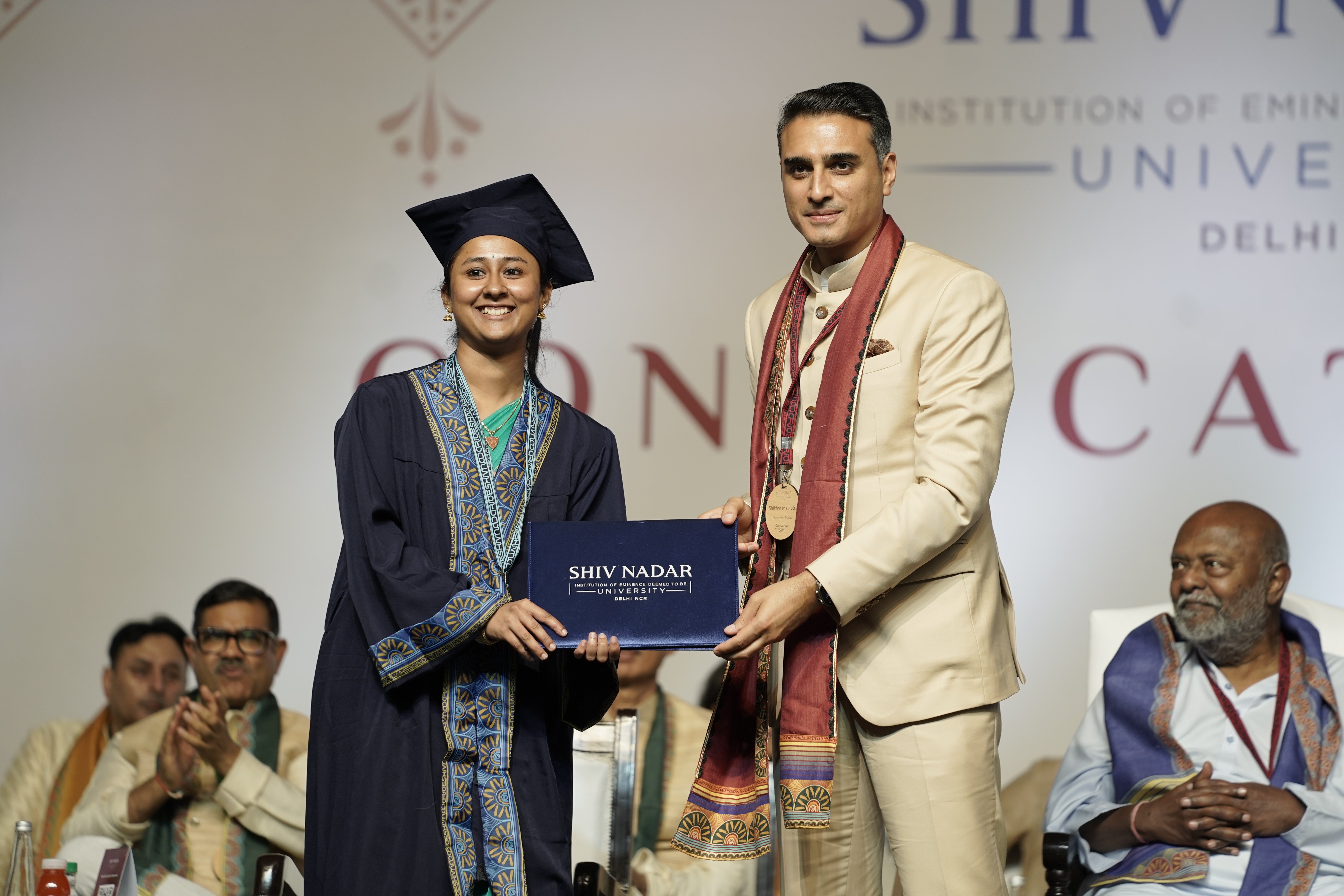 "Despite the disruption caused by the pandemic, I appreciate the work done by the university to keep the study cycle going smoothly. It was a delightful experience for us as parents. The world-class infrastructure the university provides with the best minds as faculty has molded my daughter," said Dinesh Singh Negi, head of corporate affairs at Birla Group and father of Shreya Negi, who got her B.SC Research degree in economics.
Professor Rohini Godbole said in a deeply inspiring acceptance speech, "I want to tell the graduating students that life is a game of chance, but choosing which part you want to trade on should be yours. Do not let anybody tell you what you can or cannot do, let your mind, brain, and heart decide".
A passionate champion of gender equity, Professor Godbole had a special message for the female students and their parents, "Please do not stop here."
Accepting his honorary doctorate, Professor Ajay Kumar Sood said, "I am happy to see that the university is committed to advancing fundamental research and excellence cultivated through pedagogical training and the churning of new ideas. The university plays a crucial role in building on a vision of global educational standards by being a multidisciplinary, research-focused, and student-centric institution".
Shiv Nadar, Founder and Former Chancellor of Shiv Nadar Institution of Eminence and Founder HCL, said, "Stay focused on your goals, stay motivated, and remain optimistic about your future. As you venture into the world beyond, remember that success often lies in breaking free from conventional thinking. Embrace the power of your unique perspectives and be open to uncharted paths. Also, remember that while you may see many successes, there will also be failures. If you have never failed, you have not tested yourself. Treat failure as a learning and continue to move on".
Shikhar Malhotra, Chancellor of Shiv Nadar Institution of Eminence, said, "As the university celebrates its twelfth anniversary, it is pushing the frontiers of knowledge, offering a truly multidisciplinary experience to students. The university has also embraced the mission of sustainability. We will aim high and make the university one of the most sustainable campuses in the world".
Meanwhile, a gleaming Shruti, who will be pursuing an integrated M.Sc., Ph.D. programme at International Max Planck Research Schools for Molecular Biology in Bonn, Germany, said, "I have received a fully-funded scholarship for my higher studies. Receiving my degree was a surreal experience. It hasn't sunk in yet. My journey at Shiv Nadar IoE has been extremely fulfilling. I have always learned new things every day. I am very grateful to the university for providing me the exposure."
However, for parents Narasimhan and Manjula, it was reliving their elder son's convocation all over again. "This is our second convocation at Shiv Nadar IoE. My elder son graduated with a B.Tech. in mechanical engineering in 2019 when my second son joined the university. We have been visiting this university from the time these tall trees here were just plants. The Thematic Botanic Garden on the campus is a treat to visit. The infrastructure, faculty, and student experience here is the best in India," said Narasimhan, CFO of Ascendas IT Park, Chennai.
The ninth convocation ceremony conferred 442 undergraduate degrees, 106 graduate degrees, 33 doctorates, and four integrated bachelors-masters degrees.
As the night went on, the new graduates, their families, friends, and the whole university community witnessed a glittering laser show with a similar feeling… "We did it!"