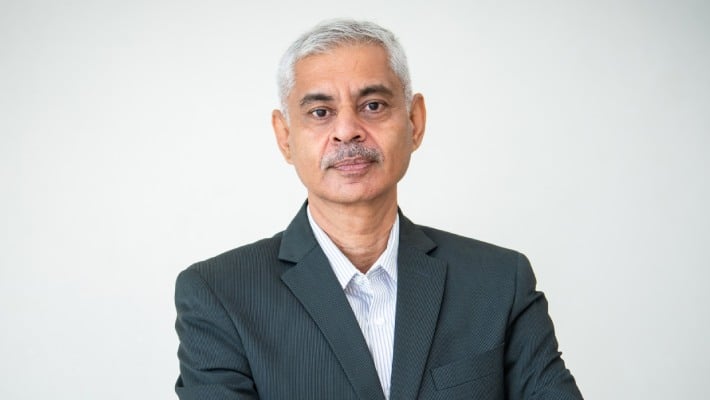 Dr. Suneet Tuli
Dean, Research & Partnerships
Shiv Nadar Institution of Eminence
B.E. (Honors), Electrical & Electronics, BITS Pilani
M.Tech., Electronics, IIT Delhi
Ph.D., Electronics, IIT Delhi
"Research, with its many facets, is the driver of vibrant human progress. At the Shiv Nadar Institution of Eminence, our vision is to create new knowledge and undertake creative expressions of the human spirit. Though we are a
multidisciplinary research-focused university,

academically organised around four distinct schools, we also

lay strong emphasis on interdisciplinarity for quality research.

"
Active and meaningful collaborations are the keys to research successes in today's strongly connected world. At SNIoE, a combined Research and Partnerships in one office, underlines the importance we place on collaborations as a key enabler. These could be academic, industrial, societal, national, and/or international. The Research and Partnerships office also lays great emphasis on promoting collaborations within the University.

Stepping into our second decade, recognized as an Institution of Eminence, we have held university-wide discussions to collectively identify the focus of future research. This has resulted in the emergence of common research themes across all Schools.
Environment

Cognition & Behavior

Data & Computation and

Energy
Other identified interschool themes for engagement include Materials, Computational Science and Engineering, Biology, Emerging Economies, Entrepreneurial Leadership, Digital Transformation, Analytics, and Organizational Performance.
There exists a strong supporting ecosystem, including state-of-the-art laboratory spaces, post-doctoral fellows and research scholars, research promotion through start-up/seed funds, professional development assistance, consumable grants, fellowships to research scholars, travel support, etc. Around 30 MoUs with reputed institutions of the world provide for meaningful collaborations and building relationships to enhance research capabilities. Many new schemes are being continuously introduced to facilitate faculty in their research pursuits.
As Dean, I welcome and encourage our existing and prospective students and faculty, to explore the research avenues available at the Shiv Nadar IoE.
Since its inception, the University has received close to 54 crore Rupees in extramural funding from 154 ongoing and completed research grants. We have received research funding from different agencies such as the Department of Science and Technology (DST), Science and Engineering Research Board (SERB), Department of Biotechnology (DBT), Defense Research and Development Organisation (DRDO) etc. As per SCOPUS, to date, the University has produced 2438 research publications with a total of 27325 citations. The University has been granted 3 patents and has 34 patents either filed or published. In addition, the University has 8 trademarks registered under its name.
Research & Partnerships Office Staff
Research Facilites
Research Laboratories and Studios
Our campus is home to biodiversity parks, culture labs, artist studios, a sports complex, and over 50 student bodies where like-minded learners come together and collaborate, keeping it abuzz with new ideas and possibilities.