Faculty at School of Natural Sciences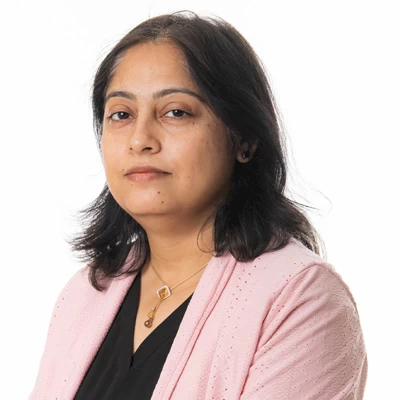 Richa Priyadarshini
Associate Professor
Contact Information
Research Area: Our lab research work is focused on elucidating the mechanism of cell wall biogenesis and its role in bacterial physiology and diseases. We are working on the following areas: Bacterial cell wall morphogenesis: One research area my lab is working on is cell division and morphogenesis of bacterial cell using Caulobacter crescentus as a model system. My broad research goal is to uncover the spatio-temporal regulation of cell wall synthesis in bacteria again better understanding of bacterial cell division. Bacterial Biofilms: Biofilms are known to mediate many diseases, as biofilms shield the bacteria from outside environment making it harder for antibiotics to kill bacterial cells. Our lab is studying the role of cell wall hydrolases in biofilm formation in pathogens such as, E. coli and Staphylococcus aureus. Microbial biodiversity and beneficial microbes: Currently, we are trying to understand and establish the bacterial communities present in aquatic and soil habitats. We are studying both synergistic and antagonistic microbial interactions in these communities in hope to develop new generation of antimicrobials.
Doctor of Philosophy, University of North Dakota
2010 ? 2012
Post-Doctoral Fellow, The Forsyth Institute, Harvard Dental School, Cambridge, MA, USA 2007 ? 2010
Post-doctoral Associate , Yale University , New Haven, CT, USA
Teaching Excellence Award from Shiv Nadar University
NSF North Dakota EPSCoR Doctoral Dissertation Grant (research support) for advanced studies and research in bacterial cell separation in E. coli.
Selected and funded by the Government of India to be a part of Indian delegation at the 55th Nobel Laureate?s Meeting in Lindau, Germany in 2005.
Student Grant Award for Molecular Genetics of Bacteria and Phage Meeting, Madison, Wisconsin (2005)
Student Travel Award by American Society for Microbiology General Meeting (2004)
1. Richa Priyadarshini, Thava Palanisami, Arulazhagan Pugazhendi, Arumugam Gnanamani Obulisamy Parthiba Karthikeyan. Editorial: Plastic to Bioplastic (P2BP): A Green Technology for Circular Bioeconomy. 2022. Front Microbiol. 2022 Apr 18;13:851045. doi: 10.3389/fmicb.2022.851045. eCollection 2022. 2. Rashmi Niranjan , Saad Zafar,Bimlesh Lochab* , Richa Priyadarshini* Synthesis and Characterization of Sulfur and Sulfur-Selenium Nanoparticles Loaded on Reduced Graphene Oxide and Their Antibacterial Activity against Gram-Positive Pathogens. 2022. Nanomaterials (Basel). 12(2):191. 3. Deepa Sethi, Richa Priyadarshini*. Isolation, Propagation, and Identification of Bacterial Species with Hydrocarbon Metabolizing Properties from Aquatic Habitats. 2021. J Vis Exp. Dec 7;(178). doi: 10.3791/63101. 4. Parul Pal, Malvika Modi, Shashank Ravichandran, Ragothaman Yennamalli and Richa Priyadarshini* DNA binding properties of YbaB, a putative nucleoid associated protein from Caulobacter crescentus. 2021. Front Microbiol. Oct 28;12:733344. 5. Nisha Yadav, Monisha Monisha , Rashmi Niranjan , Amrita Dubey , Sachin Patil , Richa Priyadarshini* , Bimlesh Lochab* . Antibacterial performance of fully biobased chitosan-grafted-polybenzoxazine films: Elaboration and properties of released material. Feb 2021. Carbohydr Polym.254:117296 6. Deepika Chauhan, Pulkit Anupam Srivastava, Barbara Ritzl, Ragothaman M Yennamalli, Felipe Cava and Richa Priyadarshini*. Amino Acid-Dependent Alterations in Cell Wall and Cell Morphology of Deinococcus indicus DR1. July 2019. Frontiers in Microbiology. 10:1449. 7. Deepika Chauhan, Santanu Hati, Richa Priyadarshini*, Subhabrata Sen*. 2019. Transcriptome analysis predicts mode of action of benzimidazole molecules against Staphylococcus aureus UAMS?1. Drug Dev Res. 1?14. 8. Chauhan, Deepika; Agrawal, Guncha; Deshmukh, Sujit; Roy, Susanta and Richa Priyadarshini, 2018. Biofilm formation by Exiguobacterium sp. DR11 and DR14 alter polystyrene surface properties and initiate biodegradation. RSC Adv., 8, 37590 9. Deepika Chauhan, Pulkit Srivastava, Vidushi Agnihotri, Richa Priyadarshini* and Ragothaman Yennamalli*. 2019. Structure and Function Prediction of Arsenate Reductase from Deinococcus indicus DR1. . Journal of Molecular Modeling. Accepted: 28 Nov. 2018. Published (2019) 25:15 10. Derman Vatansever Bayramol, Navneet Soin, Amrita Dubey, Ravi Kant Upadhyay, Richa Priyadarshini, Susanta Sinha Roy, Tahir H. Shah & Subhash C. Anand. 2018. Evaluating the fabric performance and antibacterial properties of 3-D piezoelectric spacer fabric. The Journal of The Textile Institute, DOI: 10.1080/00405000.2018.1437113 11. Gourav Bhattacharya, Rajendra Giri, Amrita Dubey, Saheli Mitra, Richa Priyadarshini, Ashish Gupta, Mrinmay Kumar Mukhopadhyay and Sajal Kumar Ghosh. 2018. Structural changes in cellular membranes induced by ionic liquids: From model to bacterial membranes. Chemistry and Physics of Lipids 215 (2018) 1?10 12. Amrita Dubey and Richa Priyadarshini. Amidase activity is essential for medial localization of AmiC in Caulobacter crescentus. 2017. Current Genetics 64 (3), 661-675. 13. Nisha Yadav, Amrita Dubey, Swapnil Shukla, Chetan Prakash Saini, Govind Gupta, Richa Priyadarshini*, and Bimlesh Lochab*. 2017. Graphene Oxide-Coated Surface: Inhibition of Bacterial Biofilm Formation due to Specific Surface?Interface Interactions. ACS Omega, 2 (7), pp 3070?3082, DOI: 10.1021/acsomega.7b00371 14. Deepika Chauhan, Pulkit Srivastava, Ragothaman Yennamalli, and Richa Priyadarshini. 2017 Draft Genome Sequence of Deinococcus indicus DR1, a Novel Strain Isolated from a Freshwater Wetland. Genome Announc. Aug 3;5 (31). 15. Priyanka Gupta, Nilanjana Bairagi, Richa Priyadarshini, Ashutosh Singh, Deepika Chauhan and Deepti Gupta. 2017. Bacterial contamination of nurses' white coats after first and second shift. American journal of infection control 45 (1), 86-88. 16. Ravi Kant Upadhyay, Amrita Dubey, Prashant R. Waghmare, Richa Priyadarshini, and Susanta Sinha Roy. 2016. Multifunctional reduced graphene oxide coated cloths for oil/water separation and antibacterial application. RSC Advances 6 (67), 62760-62767 17. Priyanka Gupta, Nilanjana Bairagi, Richa Priyadarshini, Ashutosh Singh, Deepika Chauhan and Deepti Gupta. 2016. Bacterial contamination of nurses' white coats made from polyester and polyester cotton blend fabrics. Journal of Hospital Infection 94 (1), 92-94 ,4.
1. Richa Priyadarshini*, Karthik Krishnan*, Rashmi Niranjan. ?Insights into Oropharyngeal Microbiota, Biofilms and Associated Diseases from Metagenomics and Transcriptomic Approaches? Book chapter in: "Applications of RNA-Seq in Biology and Medicine," 978-1-83962-815-3. IntechOpen Oct-2021 2. Parul Pal, Malvika Modi, Shashank Ravichandran, Ragothaman Yennamalli and Richa Priyadarshini*. DNA binding properties of YbaB, a putative nucleoid associated protein from Caulobacter crescentus. Book chapter in ?Bacterial Transcription Factors and The Cell Cycle?. 2021. Frontiers Media SA. doi: 10.3389/978-2-88974-324-7
TALKS and SEMINARS 1. Growth Medium-Dependent alterations in cell wall and cell morphology of Deinococcus indicus DR1. 62nd Annual Conference ?Microbes and Society: AMI 2022, Sept. 21-23, Mysore 2. Potential use of microbes and microbial enzymes for plastic waste management. World Environment Summit 2021 held on 1st to 3rd October 2021 organized by Environment & Social Development Association (ESDA), Delhi in collaboration with Australian Technical University, CSIR-National Environmental Engineering Research Institute (NEERI), Dr. Bhim Rao Ambedkar College, University of Delhi, IGNOU New Delhi, GD Goenka University Gurugram, Amity University 3. Wetlands: Potential source for isolation of novel bacterial species for biotechnological applications. ?Global Water Congress 2020? (E-Conference) on 2nd - 4th October 2020. 4. Spatio-temporal regulation of cell wall degrading enzymes in Caulobacter crescentus. 60th Annual Conference of Association of Microbiologists of India (AMI-2019), November 15-18, 2019 at the Central University of Haryana 5. Functional Significance of Bacterial Cell Shape. JNCASR-SNU Joint Symposium, held at JNCASR, Bangalore Novr-8-9, 2019 6. In search of new antibiotic targets: Lessons learnt from bacterial cell wall. Biotechnology: Exploring Through Innovations (BETI-2017). Nov 13-14, 2017, Central University Haryana 7. Presentation ?Investigating the role of Lactobacilli in inhibiting the development of periodontal biofilms? workshop for Young Scientist organized by DST at KIIT University, Bhubaneswar, Odisha. 2017 8. Seminar on Genetics and Epigenetics. Cambridge School, Greater Noida,2017 9. Panel Discussion in Teaching method?One day Faculty Development Workshop in Teaching Excellence at SNU, 18th July 2017 10. Careers in Biology, seminar at Open-House cum Science-Fair 2017 at SNU 11. Career in biological sciences Talk in Open-House cum Science-Fair 2015 at SNU 12. Delivered talk ?Future careers in Biological Sciences? at Sulochanadevi Singhania School, Mumbai, 2015 13. Delivered talk ?Future careers in Sciences? at Basava International School, Delhi, 2015 14. Delivered talk at SNU-DUKE conference on Urbanization at Duke University, USA, Oct 2014
Ongoing: 1. Project Title: Peptidoglycan recycling and its role in cell wall stress response in Caulobacter crescentus. Designation: Principal Investigator Funding Agency- SERB- CRG Amount: Rs 4528832 2. Project Title: Cell wall remodeling by N-acetylmuramyl- L-alanine amidases and its implication in biofilm formation and pathogenesis in E. coli Designation: Principle Investigator Funding Agency: ICMR Amount: Rs 3288400 3. Project Title: Investigating the physiological role of cell wall amidase in Caulobacter crescentus. Designation: Principle Investigator Funding agency: CSIR Amount: Rs 2300000 Completed: 4. Project Title: Scientific Research on Biotechnological solutions for Plastic Waste Disposal including plastic waste. Designation: Mentor Funding agency: Earthwatch Institute, India 5. Project Title: AlBaCo: An Algal-Bacterial Consortium for Detection and Degradation of Endocrine disruptors. Designation: Co- Investigator Funding agency: iBEC-DBT 6. Project Title: Investigating the role of Lactobacilli in inhibiting the development of periodontal biofilms. Designation: Principal Investigator Funding agency: DST-SERB 7. Project Title: Role of Cell Wall Hydrolases in Biofilm Formation of Staphylococcus aureus Designation: Principal Investigator along with Dr. Vance G. Fowler form Duke University Funding agency: SNU-DUKE
1. Invited as resource person for Microbiology for ?Two?day Workshop on finalization of Teaching Learning Resources for Life-science Teachers?, on 16-17 Jan, 2020 at NIEPA, New Delhi. Organized by National Institute of Educational Planning and Administration (NIEPA)