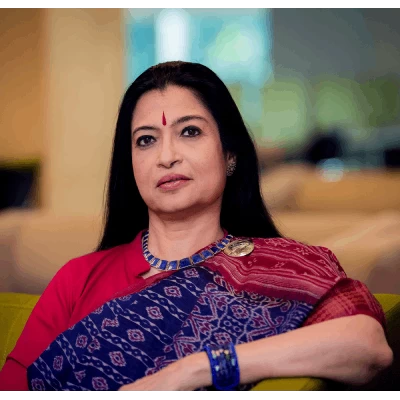 Ananya Mukherjee
Vice-Chancellor, Shiv Nadar Institution of Eminence, Delhi NCR
Dr. Ananya Mukherjee
Dr. Ananya Mukherjee is Vice-Chancellor of Shiv Nadar Institution of Eminence, recently recognized as an Institution of Eminence. Attracted by the opportunity to lead such an institution, Dr. Mukherjee returned to India after spending more than two decades in two of the largest universities in Canada — the University of British Columbia and York University.
Dr. Mukherjee obtained her Ph.D. from the University of Southern California, USA, and her BA and MA degrees in Economics from Jadavpur University, India. Before joining Shiv Nadar University, Dr. Mukherjee was Provost and Vice-President Academic, University of British Columbia (UBC) Okanagan — a fast-growing campus of a university which ranks amongst the top 40 in the world. She also led UBC's strategy for antiracism and inclusive higher education, and has been involved in several national initiatives for higher education in Canada. Between 2015 and 2018, Dr. Mukherjee was Dean of the Faculty of Liberal Arts & Professional Studies at York University, Toronto. In this capacity, she led the largest liberal arts faculty in Canada with 23,000 students from 123 countries.
Dr. Mukherjee is an interdisciplinary scholar of Development. Her initial body of work focused on corporate governance and its relation to development in India/South Asia, resulting in two books, several articles in academic journals and the media. Since 2006, Dr. Mukherjee's work has focused more on the theorization of development, beginning from a critical understanding of Amartya Sen's work on human development. This has yielded yet another body of work including two books and many other contributions, both for academia and beyond. At York University, Dr. Mukherjee established the International Secretariat for Human Development (ISHD), an initiative dedicated to research for social change. Under her leadership as the Founding Director, ISHD collaborated with institutions such as the International Labor Organization; the UN Office for Project Services, Rome; the UN Development Program; the UN Research Institute for Social Development, and others.
Dr. Mukherjee was named as one the 15 Most Influential Women in Education by Business World in 2022; amongst Canada's 100 Most Powerful Women in 2021; and one of the five Brilliant Women in Academia by Canadian Immigrant magazine in their tribute to 'Immigrant Women of Inspiration' in 2016.
 
Message from the Vice-Chancellor
Welcome to the Shiv Nadar Institution of Eminence.
Within just ten years, the Institution has defined a new trajectory for higher education in India. The recognition as the youngest Institution of Eminence by the Government of India is a testament to this trajectory. As we look forward to the next decade, we will continue to drive foundational thinking within, across, and beyond disciplines – be it the sciences, management, entrepreneurship, engineering, the humanities and social sciences, or art.
Our focus will remain steadfast on the fundamental pillars of a great university: a holistic, multidisciplinary education, research and innovation, and a commitment to the betterment of society.
We wish to be defined not only by the outcomes we achieve: our aspirations are more audacious. Our agenda is to transform the very ways in which we learn, discover, teach, analyze, act, live, and come together to create an institution of higher learning. Recognition and respect for the diversity of people and ideas, a rational spirit of inclusiveness, a global perspective, and a sense of community are core values we uphold.