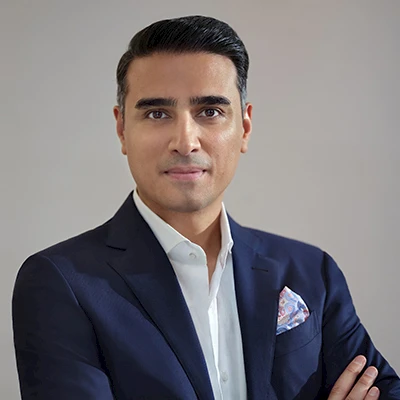 Shikhar Malhotra
Director, HCL Corporation
Vice-Chairman & CEO, HCL Healthcare
Trustee, Shiv Nadar Foundation
Chairman, Shiv Nadar School
Chancellor, Shiv Nadar Institution of Eminence
Trustee, The Habitats Trust
Shikhar Malhotra
Shikhar Malhotra is the Director and Board Member of HCL Corporation, the holding company for HCL's operating companies. HCL has a distinguished lineage as one of India's original technology garage startups, founded by Shiv Nadar. He is also on the board of HCLTech, a US$12.3 billion global organization with 222,270 professionals operating from 60 countries.
Shikhar serves as the Vice-Chairman & CEO of HCL Healthcare, one of India's largest corporate health solutions firms providing end-to-end healthcare solutions with a vision to make corporate India a healthier place. Today, HCL Healthcare is delivering personalized, sustainable, and managed healthcare solutions to organizations across sectors. It has eight world-class corporate health centers across the country serving over 70,000 families.
As a Trustee, Shikhar plays multiple roles at the Shiv Nadar Foundation including shaping its vision of nation-building through transformational leadership. Shikhar is the Chairman of Shiv Nadar Schools (established in 2012), one of the most coveted schools in the National Capital Region of Delhi, and consistently recognized among the top schools in the country. The Shiv Nadar Schools are known to push the benchmarks in education to impart critical life lessons and make students future-ready for a complex global environment. Under his leadership, the Shiv Nadar School is expanding its footprint to Chennai, with the first School being established in the city at the historic and serene campus of the Theosophical Society in Besant Garden.
Shikhar is also the Chancellor of Shiv Nadar Institution of Eminence (Shiv Nadar IoE), India's youngest university chosen as an Institution of Eminence by the Government of India. Today, Shiv Nadar IoE is one of the only four private universities in the country acknowledged for being on an accelerated path to emerge as a world-class, research-based, multidisciplinary institution.
Passionate about wildlife and conservation, Shikhar co-founded The Habitats Trust in 2018 with his wife Roshni Nadar Malhotra. He is the Trustee of the Habitats Trust which is empowering on-ground conservationists to achieve its vision of securing India's natural habitats and indigenous species.
Shikhar comes from an entrepreneurial family, raised in Kuwait. His early lessons as an entrepreneur were learnt at his family business and were later sharpened at Babson College in the US, with a specialization in entrepreneurship.
Shikhar is passionate about sports, football in particular. He is married to Roshni Nadar Malhotra, and they have two sons.