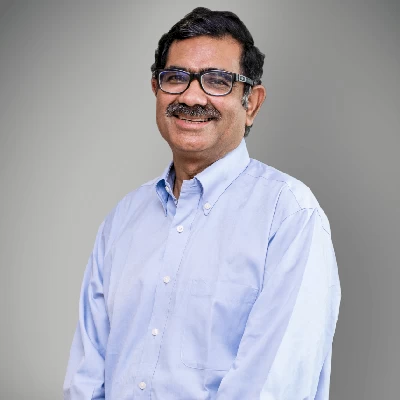 Dr. Rajat Kathuria
Dean, School of Humanities and Social Sciences

B.A., Economics, St. Stephen's College,
M.A., Economics, Delhi School of Economics,
Ph.D., Economics, University of Maryland
Dr. Rajat Kathuria
The School of Humanities and Social Sciences (SHSS) at Shiv Nadar University (SNU) has a distinctive identity in that it consists of seven diverse departments, which are nevertheless unified by the common themes of sustainability, data, and the local context. The departments include Economics, English, International Relations and Governance Studies, History and Archeology, Sociology, Design and Art, and the Performing Arts.
What does it practically mean to be unified by common themes? It implies that research on a subject such as an environment is approached from individual and unified disciplinary perspectives to create new knowledge not only for its own sake but also to inform policy. Data collection itself is a multidisciplinary pursuit, both qualitative and quantitative, and is subject to rigorous mathematical and statistical as well as strong qualitative inquiry that eventually finds utterance via a variety of platforms such as journal and book publications, workshops and seminars, art exhibitions, performances and crucially in the classroom.
Most research is a collaborative exercise. The best ideas come when you create a collaborative, interdisciplinary environment and ecosystem. An ecosystem that values research-publishing, speaking at, and attending conferences and seminars is encouraged, and data collection is de rigueur - attracts the best minds and helps retain them. We teach students what is relevant and contemporary, i.e., at the cutting edge, and this can happen only when research is a priority. Through our various teaching programs, we aim to produce leaders for the 21st century who will push the boundaries of what is deemed possible and enlarge the visions of a just society through their work. The aim is also to help create knowledgeable, aware, and responsible global citizens.
The hallmark of research and teaching at SHSS lies in its multidisciplinary character; students are required to enroll in Core Common Curriculum (CCC) courses along with University Wide Electives (UWE), which provide the fundamentals to be genuinely transdisciplinary. We provide opportunities for students to engage in research along with faculty. While they acquire theoretical insights in the classroom, OUR and the final year compulsory thesis for UG students expose them to hands-on research and test their logical and lucid writing skills. The region around the University becomes a living laboratory for the students for field work, contributing and giving back to the local community. We have a Writing Centre that caters to the academic writing needs of different disciplines across the University.
To achieve our vision of being the best in India, to be recognized globally, and to do justice to the unique nature and fast-paced growth of SHSS, we must hire the best faculty. Our recruitment strategy and hiring focus on excellence reflects the diversity and prioritizes our research emphasis on the Global South. We aim to balance our need for a critical mass of new faculty with a careful selection of those who will enhance the distinctive nature of our School and programs, undergraduate, postgraduate, and doctoral.