About the School of Engineering
The School's curriculum emphasizes learning fundamentals while keeping a keen eye on the needs of the changing landscape of the job market. The wide range of multidisciplinary subjects molds the students into an optimal blend of technically skilled and socially responsible citizens who are well-equipped to become leaders in their chosen fields. While specialized technology-centric universities have many departments, being part of a multidisciplinary university, the School's five primary departments offer a Major program with specializations conforming to current needs.

Since 2011, the mission of SE has been to serve the higher learning needs of India and the global community in technical education. Our multidisciplinary setting stimulates innovation, and challenges our students to become leaders and frontrunners in scientific and technical education. We have created a learning environment for students that is participative at all levels and fosters a curiosity-driven culture that reinforces research as an institutional priority.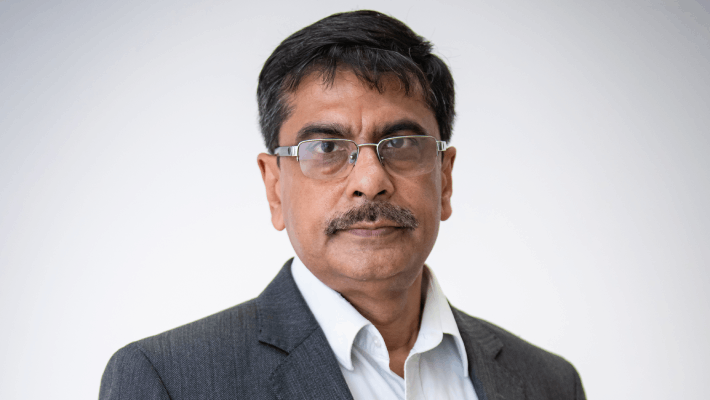 Dr. Sandeep Sen
Dean, School of Engineering
Shiv Nadar Institution of Eminence

Ph.D., Computer Science, Duke University
M.S., Computer Engineering, University of California
B.Tech., IIT Kharagpur
Dr. Sandeep Sen joined Shiv Nadar University as Dean of School of Engineering, and Professor of Computer Science and Engineering on May 16, 2019. Prior to joining SNU, he was on the faculty of the CSE Department in IIT Delhi since 1991 where he shouldered the responsibility of heading his own Department during 2007-10, and served as the Dean of Faculty of IIT-Delhi during 2016-18. He has held the position of Dhananjay Chair Professor and the Microsoft Chair Professor in IIT-Delhi and has been a Visiting Researcher and faculty in notable institutions in India and abroad. A Fellow of the Indian Academy of Sciences and the Indian National Science Academy, he is widely recognized for his research contributions in the areas of Algorithms and Theoretical Computer Science.
Drawn from top universities and enterprises across the world, our advisory council brings with them a wealth of academic, research, and industry experiences to equip our faculty and students to take on the challenges of the increasingly digital and data-driven world.