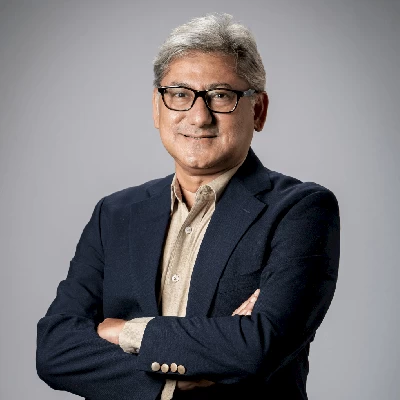 Dr Bibek Banerjee
Dean, School of Management and Entrepreneurship
Dean, Academy of Continuing Education
Director, University Strategy and Planning

Ph.D., Krannert Graduate School of Management, Purdue University
Master of Economics, Krannert Graduate School of Management, Purdue University
Dr Bibek Banerjee
The School of Management and Entrepreneurship (SME) has crafted a mission to challenge the polarities of academic theory and practicalities of business management and entrepreneurship, and align them as force multipliers. The larger eco-system of the Shiv Nadar University, with its constituent domain depth in engineering, technology, sciences, design and humanities, provides the perfect interdisciplinary platform for SME faculty and students to explore the unexplored, and develop an agenda for innovation driven and economically sustainable value creation – both for businesses and for society.
Research, both scholarly as well as practice-and-market focussed, is in the DNA of the institutional culture at SME. Our scholarly faculty are the key drivers of the research agenda, and this research driven academic culture enriches the SME teaching programs with a unique distinction of being current, real-time relevant and immersively experiential.
The contiguous knowledge centers of the larger University fabric allows us to leverage technology and innovation assets such as the Dassault Center, the Atal Incubation Center, the Entrepreneurship-Cell, the AIML laboratories, etc to be embedded in the learning journey of faculty and students.
Our deep and real industry focused engagement with senior C-Suite captains from every sector of the industrial and digital economy creates a depth of dialogue and mentorship that is unparalleled.
While our academic faculty, practitioner faculty and the students are the soul of the School, our uniquely crafted inter-disciplinary curriculum & pedagogy is the framework over which much of the transformative work actually gets crafted. All our programs at the School are informed by science, enabled by technology, driven by data and nuanced by the empathy and insights of human sciences.
SME today is truly a congregation of the meritorious. Our Faculty drives the narrative of positive and sustainable transformation, in collaboration with the students (and our international university and industry partners). Here, our faculty, students and staff embrace complex, unstructured and  real-time business and entrepreneurial challenges – and hack at them with analytics, with digital design and technology, with design-thinking mindset, and look for solutions that benefit their enterprise as well as society at large.